The GUIcci Update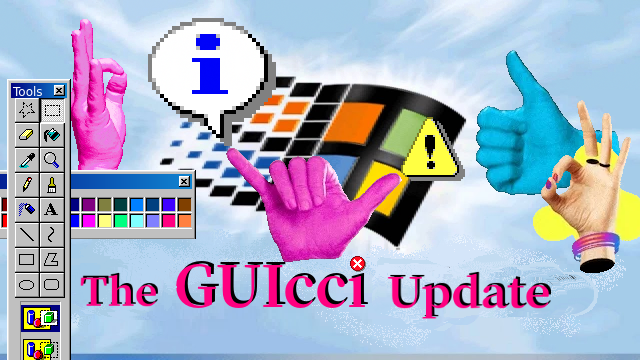 New Features
View > Zoom > Show Thumbnail to show a preview of the image at a small size, great for pixel art. Make fine, precise edits, while keeping it all in perspective.
Pinch zooming: If you have a touch screen, use two fingers to zoom in and out, and pan the view.
Alt+Mousewheel to zoom in and out quickly on desktop. Unlike the Magnifier tool, this allows you to zoom while making (or moving) a selection, for added precision.
Added View > Fullscreen to toggle fullscreen mode. This is nice for using JS Paint on your phone.
The Text tool now automatically expands the textbox as you type. When resizing, there's now a minimum size based on the text in the textbox. It previews exactly what size it will end up with when resizing.
Docking: If you drag the Colors box or Tools box out into a window, you can now dock it back when dragging the titlebar. Previously to dock it you had to double click the titlebar, or drag it by the edge of the window.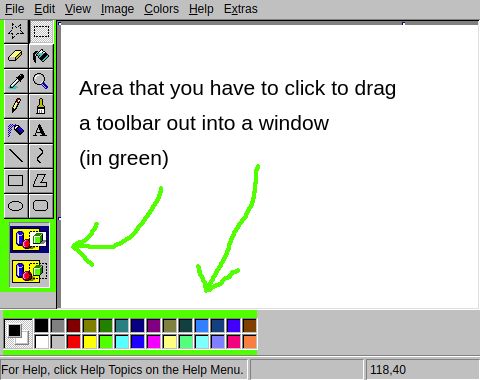 Menus are now fully keyboard (and screen reader) accessible. In particular, you can hold Alt and press the access key of a menu button to open the menu, and then (without Alt) press the access key of a menu item to select it. The access key of an item is the underlined letter, or the first letter of the item's text if there's no underline.
Error details are now hidden by default in error dialogs. The details may be more overwhelming than useful in a lot of cases, but if you need them, you can expand the details.

File > Exit now exits to the official web desktop,
98.js.org, a re-creation of Windows 98, full of games and applications.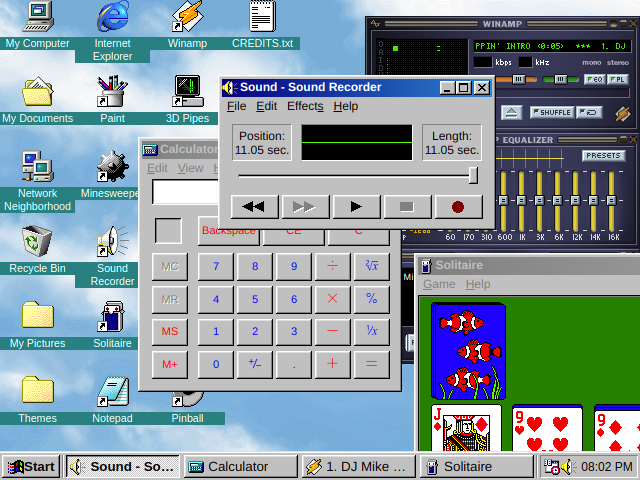 This project spun out of JS Paint, and I have implemented now Sound Recorder, Notepad, Calculator, and even Windows Explorer, to a high level of detail.
It also includes projects from other people, other recreations of old programs, like Webamp, a meticulous recreation of Winamp, and JS Solitaire, a Solitaire clone (I tweaked it for accuracy, adding the card back images, etc.)
Pixel Perfect
All interface elements are now thematically styled, powered by OS-GUI.js and 98.css.
The whole interface is now pixel perfect accurate to Windows 98. (Okay, there's a few things that are a pixel off or so, but seriously, I lined up a screenshot and got it essentially perfect.)
Improved layout of View > Zoom > Custom Zoom window, matching the design in MS Paint.
Added padding to all dialogs so they don't feel cramped anymore.
Message boxes now include warning or error icons, and play a sound when they appear.
Improved View > View Bitmap: it now uses the theme's wallpaper background color, if the image is smaller than the window. It now closes with a click or key press, and doesn't let you edit the image (which was weird).
The Help window can now be minimized to the bottom of the screen, even though there's no taskbar. It works like how Windows 98 does if the process managing the taskbar crashes.
Fixes
Menu buttons are easier to open on a touch screen. Sometimes you had to tap twice before the menu opened.
Fixed large square brush continuity (it left gaps before, due to a half-implemented optimization).
The selection and textboxes no longer "blow up" if you resize them to a minimal size. They are now limited when you drag an edge past the opposite edge.
Fixed a bug where vertically thin selections were difficult or impossible to drag (despite showing a drag cursor). (The draggable region was offset outside of the selection box.) Fixed a similar bug where tool previews would get offset if the canvas's height was very small.
Resize handles no longer get smaller when the object to resize is very small. The draggable region for handles no longer gets smaller either, except in dimensions where it must. It's now considerably smarter than Windows 10 about where it lets you drag handles from.
In Image > Flip/Rotate, you can now click the custom degrees input field before selecting the "Rotate by angle" option.
The magnifier preview and other tool previews are now hidden while dragging the Colors box or Tools box. It looked confusing when the magnifier preview was shown at the same time as the preview outline for dragging/docking a tool window.
For languages that read right-to-left, the History view (Edit > History) now uses a right-to-left layout, and the color box and tool box no longer flip their layout when dragging them into a window or docking them back to a side of the application.
The history view and error messages use more localized text.
Fixed cut off icons in buttons in the help window toolbar in the Modern theme.
All windows now have a default-focused control, and the last focused control in the window is remembered for when you refocus the window.
File > New and File > Open now create a new autosave session, instead of using the current session.
Winter Theme
Updated the Winter theme with advent calendar-style tool buttons, that reveal (improved) holiday pixel art for each tool when you select them.
This means that the Winter theme is more usable, since it doesn't obscure the functions of all the tools with pixel art.
Also, if it doesn't feel quite enough like an advent calendar for you, you can hold Shift to select multiple tools at once.
Perhaps you could make a drawing using only one tool for the 16 days leading up to Christmas, with exceptions for the Pick Color and Magnifier tools, of course.
Snowflakes in the menus indicate what letter you can press to select that item.
To disable the Winter theme, click the Grinch at the bottom of the screen, who will then smile a nasty smile and steal Christmas from you. You can get it back with Extras > Theme > Winter.